Job Costing: Monitor Status
A key benefit of Exordia Job Costing is that you can monitor the financial status of a job at any time with the minimum of effort or need to print extensive reports. The information is presented on-screen in a layout configuration that is user customised to suit the particular detail you want to see.

This facility sets Exordia Job Costing apart and is particularly useful for staff that want access to job information without the need to have a full understanding of the program operation.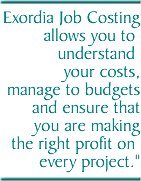 All of the Exordia Job Costing screens can be fully tailored with regard to what they show and the order in which it is displayed. There is also a facility to group and sub group records on the screen to allow further analysis.
In addition to the default column layout, there is a card view, which presents the selected data in a card type arrangement. The software also allows you to print the customised screens - showing only the information you require.