Job Costing: Generate Budgets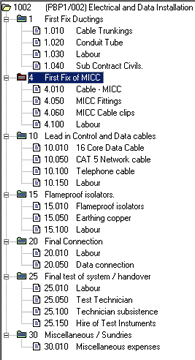 The program enables you to easily create a structured budget for the job - either as an estimate or directly as a new job. When the job is started and costs are logged against it, the budget is used as a reference to compare against the actual costs and help check the job profitability.
The structure of the Job budget is flexible and you can organise it to suit your particular requirements. It uses sections of work and line items of cost to arrange the parts of the job into a logical arrangement for cost logging and monitoring.
New jobs and the associated structure and budget can be created directly or copied from existing jobs or job templates. Copying and editing makes the new job generation process straightforward and quick and enables even the most complex of jobs to be created with the minimum of effort.
A key benefit of Exordia Job Costing is the relative ease with which actual job costs can be compared (on screen and at any time) with the original estimate or budget - helping you to ensure that the job delivers the expected returns.