Job Costing: Purchasing

The Purchase Order module (for optional use) is the core of commitment accounting, which tracks the cost associated with purchase orders that have not yet been invoiced by the supplier. It allows the user to raise non-stock orders for materials and services and incorporates a goods receiving and purchase invoicing process that matches supplier invoices to Goods Received Notes to enable price and delivery checking.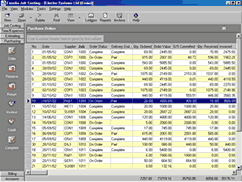 The main benefit of commitment accounting is that the organisation can not only see all the actual costs, but also the future costs it has committed to the job. This ensures that the total cost potential of the work is known at all times and that no costs are overlooked when a bill is created.







The key features of the purchasing module are:-
Flexible purchase order format.
Linked to Jobs with access to the Job Record for information on what needs to be purchased.
Records and stores the Outstanding value of the order as a commitment to future cost.
Goods Receiving process that generates a Goods Received Note for each Item delivered, including a supplier batch and serial number.
Supplier invoicing that matches Invoices with Goods Received Notes and Purchase Orders and facilitates price checking.
Books invoices to the Job as Work In Progress, and reduces outstanding commitment.
If, when an estimate is created, the details of the supplier are added to the line items, they can be used to automatically generate the Purchase Orders at the point of conversion from an Estimate to a Job. The facility is optional and can be switched on or off at the time of Estimate conversion.
If it is selected, a series of Purchase Orders will be automatically generated and held in the Purchasing section ready for placing on order or slightly modifying as appropriate. The system automatically appends the next PO Number - thus maintaining order number file integrity. The benefit of this feature is that the time associated with raising all the Job Purchase Orders is reduced substantially.